sophisTex offers a full set of consecutive roadmap activities which are set to guide you towards a successful implementation of your SAP solution from day one and beyond.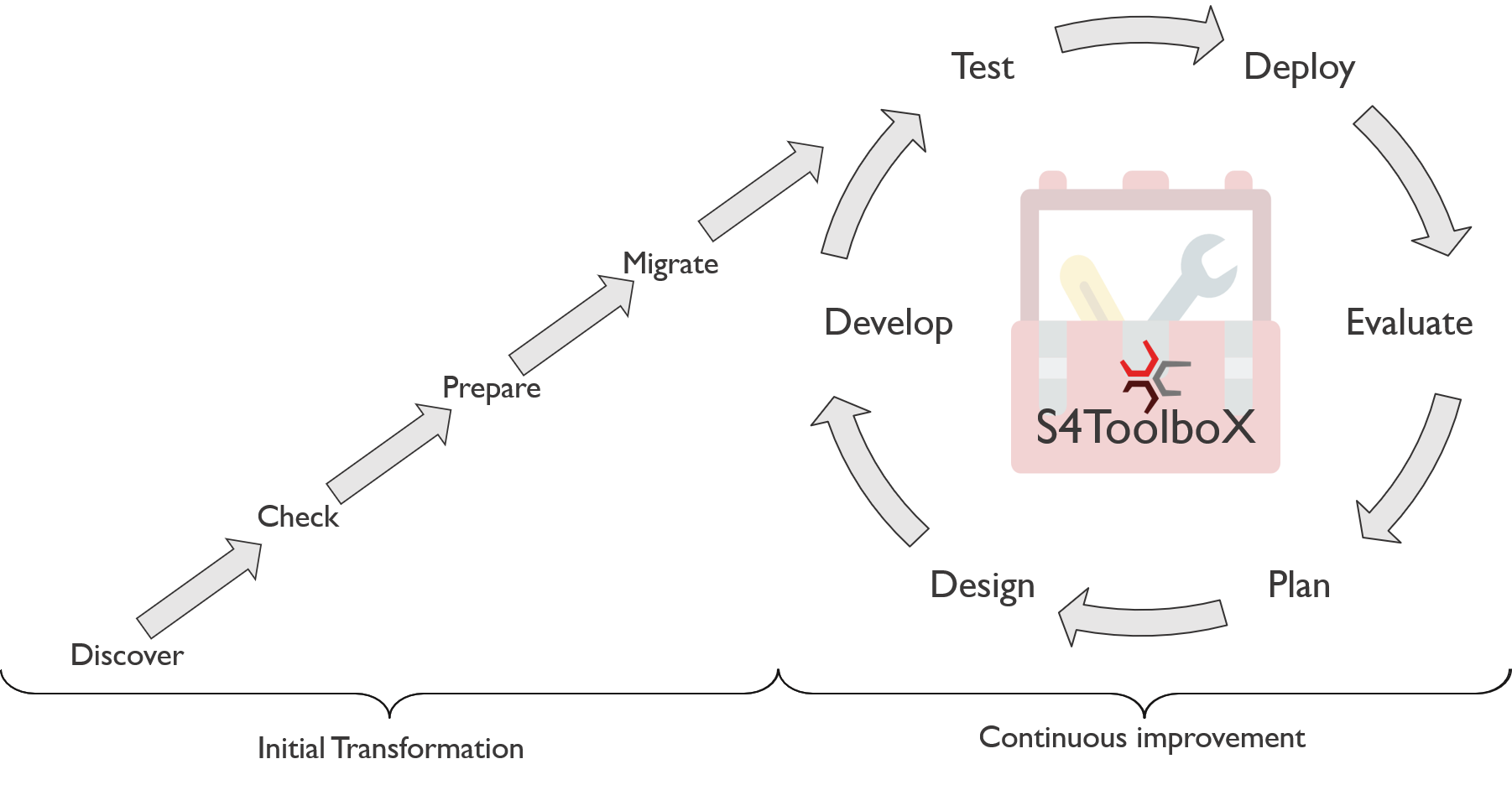 Initial Transformation
The Initial Transformation phase begins with a preliminary meeting and transitions into the Continuous Improvement phase after the first deployment. After your existing SAP landscape, including installations, used modules, and connections to (non-SAP) systems are defined, we will set up the first parts of your new SAP S/4HANA system landscape. 
 
Discover
Using our sophisTex S4ToolboX and SAP standard procedures, we discover how your current SAP landscape is being used productively. In order to reduce effort and therefore your costs, the system profiler is being executed in the background, running on all your SAP installations. The profiler tracks which transactions and SAP modules are utilized and how your system was modified using (non-SAP standard) custom code / enhancements.
In addition, database accesses are monitored to reveal potential optimizations coming with the new column-oriented, in-memory database SAP HANA.
Check
All results are merged with our insights from the preliminary meeting to check possible migration paths that fulfill your company's needs. During this step, we will discuss different approaches, a Greenfield, a Brownfield, or a mixed approach. 
Greenfield Approach: "Restart" your SAP infrastructure and build your new system landscape following SAP standard and best-practice processes that can be customized to fulfill your needs.
Brownfield Approach: Keep your existing and well proven processes and, if needed, migrate to prior enhancements and custom developments.
Mixed Approach: Begins converting one of your systems using one of the approaches. After everything is up and running, your new system integrates perfectly into your existing landscape.
Once the Check step is completed, your company's personal migration plan is created by sophisTex. The plan will include the results of our analysis, a project plan to get your system landscape running on SAP S/4HANA, our goals and strategy, as well as an estimated timeline. 
Prepare
With your personal migration plan created in the last step, it is now possible to make all preparations needed for your approach. This can include setting up new systems, extracting existing customization, enhancements, and personalized developments from your old systems, installing Fiori applications, implementing custom Fiori applications, adjusting custom ABAP code, and much more. 
Depending on the planned actions and your personal migration plan, this step will be the largest part of the Initial Transformation phase. During this time, you will constantly receive feedback about the status and get prototypes presented so that you always have the possibility to take corrective action wherever you detect optimization potential or have special wishes regarding your processes. 
Migrate 
After our preparations are done, your new system is ready-to-use regarding customization, enhancements, and personalized developments. The new system fulfils all your defined needs. The actual master data migration will follow to make your new system fully functional.
Using our agile methodologies, high level of automation and the copy-approach, it is also possible to perform multiple migrations of test and productive data without any risks before to ensure a smooth migration afterwards.
Continuous Improvement will only start once you are completely satisfied with our prior migration and successfully performed your first tests. 
Continuous Improvement
Once the Initial Transformation phase is completed successfully, everything is ready for Continuous Improvement. During this phase, your new SAP S/4HANA system or landscape is already online and can already be used productively as all test and migration steps were passed during Initial Transformation.
During the Continuous Improvement phase, your new system landscape will be improved gradually to exploit the full potential of SAP S/4HANA. Depending on the chosen approach, old SQL views can be replaced by faster Core Data Services, standard transactions can be replaced by modern Fiori UIs that not only offer a new look and feel but are also available on your mobile devices.  
Test
For both, finalizing the Initial Transformation and all future changes to your system, the test step ensures that all your needs are fulfilled, and you are satisfied with what we have deployed for you. Of course, after the Initial Transformation phase, there is a lot to test as we built a new system landscape.
Once the initial test is passed and our Continuous Improvement phase starts, there will be some smaller features or improvements that are ready to test and deploy. 
This step is the most valuable to sophisTex as you can exactly show us all your needs and wishes that we will realize soon after. 
Deploy
All tests are passed, and you are happy with your new system or new features. We are sure that your users will love the new possibilities and can begin working on your new system. 
sophisTex will now happily coordinate and perform all needed deployment steps for you. This does not only include all transport related steps and technical configuration, but also scheduling possible downtimes, supervising the actual import, all hyper-care related activities and much more. 
Evaluate
During testing, it was already ensured that everything performs as designed and can be used productively by your users. Once your new system or enhancements are deployed, it is important to evaluate the level of satisfaction from the end-users' point of view and continuously improve it, due to constantly changing requirements and general expectations for technical systems.
Plan
During evaluation and afterwards, both the gradual introduction mentioned in the Check step and possible improvements derived from end-users' feedback will be collected and their timing planned. During this step, sophisTex proposes an enhancement roadmap as well as further possible improvements. This roadmap is then discussed and adjusted until it fully fits your requirements. 
Design
Once the plan is made and the scope for the next development step is specified, during the design step, the final look-and-feel is defined. This step is crucial, because you can define the appearance of the application that you and your employees will use later in a productive environment. You have full flexibility regarding design, user interface, and navigation flow. In addition, you will be supported by sophisTex to build your applications in accordance with SAP standards. 
Develop
When the previous steps have been completed and the plan is well defined, development can begin. During this step, sophisTex will send regular updates on the status, and prototypes in case of larger developments, to ensure that your requirements are always met.